October 15, 2022
Looking for an authentic Rathi Steel Supplier in Noida?
Every construction project starts with imagination for the looks and amenities but when it's time to finally begin the project, the reality brings us to a more valuable question about the stability and strength of the construction. So, here selection of material plays an important role. Rathi Steel Supplier has the highest strength-to-weight ratio among building materials, including concrete. Steel is eight times stronger than concrete in tension and shear; is resilient unlike concrete; and has better resistance to tensile, compressive, and flexural stress.
As we all know steel is one of the worth mentioning materials for all kinds of construction. From the base to the heights, it is the only deciding factor for the stability and shape of the structure. Hence, selecting the right steel product is also a challenge. But nowadays, Rathi steel is becoming the most preferred option for residential and commercial among builders. Because of its quality product, availability, and wide array of options.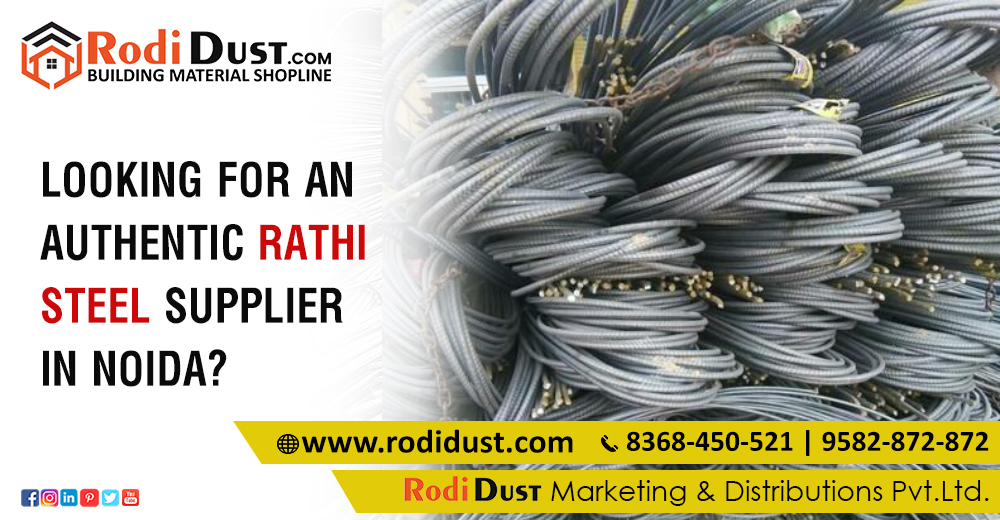 Due to its popularity, some construction material suppliers are cheating clients by providing duplicate Rathi steel products. So, here you need expert assistance and an authentic Rathi Steel Supplier in Noida, like RodiDust, the best construction company in Noida and Delhi.
WHY RATHI TMT STEEL BARS ARE A PREFERED OPTION
ideal for building earthquake-prone areas.
Can effectively stand against raw seismic activities
Offers an excellent balance between lengthening and hardness.
possess opulent yield strength, ductility, and tensile strength.
High-temperature subsequent shaping, rolling and binding bring it effective for all types of construction.
can be used in humid regions for the construction project due to their anti-corrosion and rust-resistance properties
Available in all grades and reasonable.
Why go for RodiDust
At any scale, building projects need wise and prudent decisions because it is a concern of no turning away. The imprudent decision can hurt us in many ways –a waste of time, effort, and capital at the least. And customer fulfillment, quality assistance, and value for money.
At RodiDust we offer the most original and high-quality Rathi steel material. We are a team of skilled engineers and well-trained workers. RodiDust is serving as the most preferred and prominent building material supplier in Noida. The service we offer is based on modern, cost-effective, state-of-the-art technologies. So, contact us for the best and most authentic Rathi steel Supplier in Noida.
Note: Also Please Like Share and Comment on Facebook Page