August 18, 2022
Building Material Supplier in Gurgaon
Building material is the key component of masonry work. While going through the construction project quality and price of materials are primarily look upon.  To overcome the problem of selection of the right construction material, the topmost thing is to search for the best building material suppliers near me. Rodi Dust Marketing And Distributions Pvt. Ltd. poses expertise in providing all kinds of building materials such as Cement, TMT Bars, RMC, AAC Blocks, Red bricks, Fly ash bricks, Aggregates, Stone Dust, Jamuna Sand, and Interlocking Tiles. Being the best cement and TMT bars supplier in Gurgaon Rodidust offers a huge variety of cement and TMT bars. Not only this, but the availability of good quality bricks and blocks makes Rodidust the best bricks and blocks dealer in Gurgaon. As far as fine and coarse aggregates are concerned, choosing Rodidust is the best option as it supplies top-quality construction material.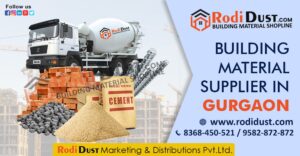 Choosing Rodi Dust Marketing And Distributions Pvt. Ltd. – A Right Decision
Rodidust being the best building material supplier  always ensures clients' satisfaction. Our company believe in quality services and our approach has been designed to provide the same. We listen carefully to our clients' needs and supply them materials according to their project's requirement. Timely- delivery is the key factor that Rodidust follows as we understand the value of our clients' requirements. Our services are rendered at fair and competitive prices. Our growing list of satisfied customers is not only work as referral but also act as source of repetitive business.
Other Services Offered By Us
Along with the supply of the best quality building materials, Rodidust is emphasizing various other aspects to make your construction project easier. Except for providing construction materials other services offered by Rodidust are:
Interior Designing
House Construction
Architecture
Modular Kitchen
Painting Services
False Ceiling
Solar
Modular Wardrobe