January 19, 2023
TMT Bar
TMT Bar also Thermal Mechanically Treated Bars. These bars have great strength with a hard outer core and a soft inner core. Steel Bars are generally used in those areas for construction purposes to enhance protection against earthquakes or any type of natural disaster. TMT Bars have a special feature of weldability by which they can be molded into any desired structure of our requirement. For durable, cost-effective, and also solid construction. TMT Bars are the best choice of steel. The TMT committee at Rodi Dust ensures that you get quality TMT Bar Prices.
Following are today's TMT Bar Prices according to the TMT team at Rodi Dust: –
| | |
| --- | --- |
| Brands | Prices (As on 18th Jan 2023) |
| SAIL | Rs 73397 / MT |
| Jindal Panther | Rs73348 / MT |
| Tata Tiscon | Rs78958/ MT |
| Electrosteel | Rs 70886/ MT |
| Rathi Steel | Rs 66679/ MT |
| Kamdhenu Steel | Rs 67073/ MT |
| SRMB | Rs 69707/ MT |
| RUNGTA | Rs 67682/ MT |
| JINDAL UHD | Rs 67782/ MT |
| JSW Neo Steel | Rs 73626/ MT |
The following brands of TMT Bars are available with Rodi Dust: –
SAIL – Steel Authority of India Limited, more commonly called SAIL, is the largest producer of steel in India. The 20th largest steel producer in the world. It is owned by the Indian government under the Ministry of Steel. It also has an annual production of 16.30 million metric tons.

Jindal Panther – Jindal Steel & Power Ltd is known for strengthening India's infrastructure and their steel is also used for making India's fifth largest bridge becoming the preferred choice for various projects across India.

Tata Tiscon – Tata's has a name in the industry and we all also know how dedicated they are to providing quality and also reasonable products. Even in the steel industry, Tata comes first and also Tata Tiscon Steel Bars are the perfect balance of all our requirements.

Vizag Steel – Vishakapatnam Steel Plant is the first shore-based integrated steel plant in the country and is known for quality products delighting its customers while catering to the need of different industrial sectors at the same time.

Electrosteel–Electrosteel has its roots in over 90 countries and 5 continents specializing in making superior quality ductile tapes and also fittings by creating industrial benchmarks over the years.

Rathi Steel – Rathi Steel has made its place in the industry by being one of the most trusted and reputed brands for high-strength steel bars. The company has a license to use 'Thermex' technology by converting their steel into earthquake resistant.

Kamdhenu Steel – Kamdhenu steel has become the TMT expert since 2013 by launching Kamdhenu SS 10000 TMT bar with double strength and double suitability to get ahead of their competitors in the industry.

SRMB – Srijan Private Limited has an annual turnover of more than 1500 crore per annum equipped with modern infrastructure for quality and also testing purposes. Recently, the company has also introduced its SR variety of Steel Bars for earthquake-prone areas.

Rungta –Rungta Steel has been in the industry since 1962 known for its superiority in design, precision in engineering, and also perfection in the manufacturing process. With the advanced technology that paves the way for top quality products, fit for both domestic and also international parameters.

JSW Neo Steel – JSW Neo Steel is known for its pure and superior quality of steel and for the production of technologically advanced bar rod mills that are supplied from Italy, Danieli, and also Morgan, USA. And their quality of steel is said to fit Indian, British, Australian, and American standards.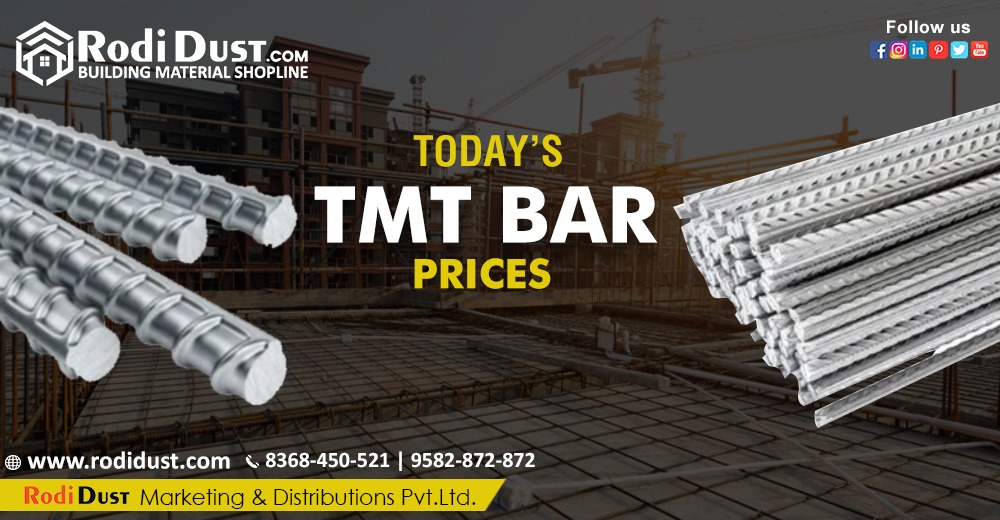 Why Choose Rodi Dust for TMT Bars
We at Rodi Dust make sure that you get quality-assured TMT Bar Prices. Having various brands of TMT Bars under our portfolio gives you many options with the best deals and also a variety of grades of TMT Bars to make sure you get all the qualities according to your need.
Customer satisfaction is our main motto and for anything needed, we will be there at your service. For further inquiry, please write comments on our blogs and call mobile no's written in the top corner of the Rodi Dust page to clear your doubts regarding this.
Note: Also Please Like Share and Comment on a Facebook Page