March 5, 2022
Steel is one of the critical inputs that plays a crucial role in the foundation of construction projects. It plays a vital role in bonding the concrete and determines the strength of the building. When we are constructing a house, it's important to consider each aspect from the design of the project to the selection of material. JSW Neo Steel is a perfect choice both in terms of design and strength.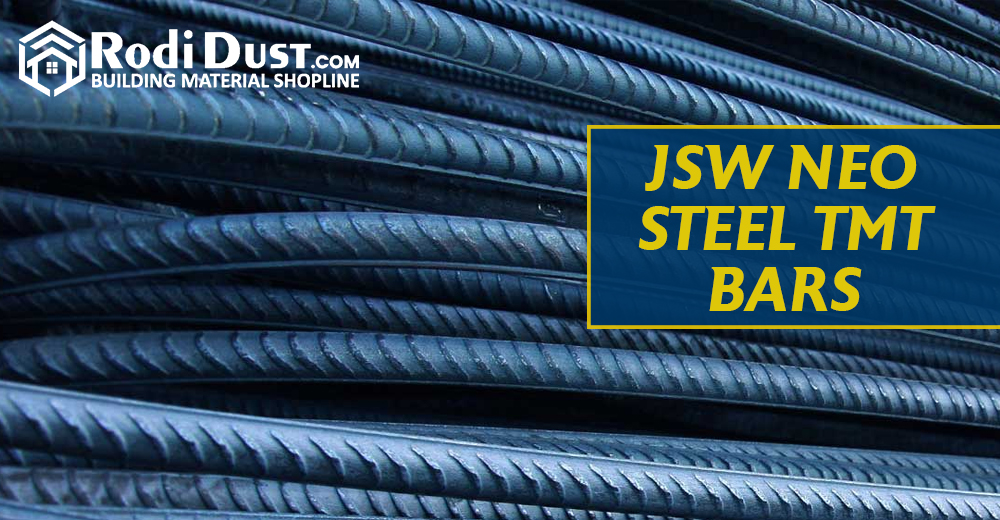 JSW NEO Steel TMT bars:
JSW Neo Steel are the best quality TMT bars in India.

Iron

 

ore

 

is

 

used

 

in

 

their

 

manufacture

.

They are free from impurities and have uniform properties. In addition to this, these TMT bars have high corrosion resistance.

They

 

can

 also 

be bent into 

custom

 

shapes

. 

JSW NEO Steels

are

 THERMO MECHANICALLY TREATED 

that

 

ensures

 long-term durability and stability

.

These Thermo Mechanically treated bars also possess properties such as good elongation, bend-ability and swift ductility.
They are Earthquake and fire-resistant with High tensile strength and cost-efficient.
Why choose Rodi Dust Marketing & Distributions Pvt. Ltd.:
The Rodi Dust TMT bars suppliers ensures timely delivery to our customers.
We make sure that the bars are not altered and delivered to the customers in their original state.
We also assists our customers in selecting the best material for their dream projects.
Rodi Dust TMT Saria team is full of well educated and well trained experts who runs lab tests in order to deliver the best material to the customers.
We also deals in all the other construction materials such as Aggregate, Cements, Bricks, Stone Dust, Jamuna Sand etc.
Rodi Dust Marketing & Distributions Pvt. Ltd. is the only company that provides expert support to their customers and help them in shaping their imagination into reality.
Serving Happiness is our sole moto.