December 28, 2020
Choosing the right building material supplier is important
Choosing the right building material supplier is important – There are tons of different types of materials that are required in the construction industry. These materials extend from expensive machinery and devices to cheap supplies. In order to ensure that the work of construction remains unhampered, it is absolutely essential that you arrange for the regular supply of these materials. When it comes to building supplies, these days, there are multiple different options available in the market in terms of suppliers. You need to check what brand of cement, bricks and the concrete the suppliers afford to give you for any project. Check what the sample works that they have already done, and what can be done to identify the best parts of your building supplies.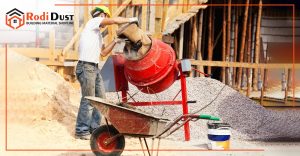 Some of The Common Materials Which Are Used in Building Construction
There are wide ranges of different types of materials that are required for building construction. However, there are some which are absolutely basic and necessary as they help to form the foundation of the structure.
Here Are Some of The Most Essential Building Supplies That Are Required:
Bricks
Cement
Aggregate (Rodi)
Tmt Bars & Steel
Stone Dust
Jamuna sand
Ready mix concrete (RMC)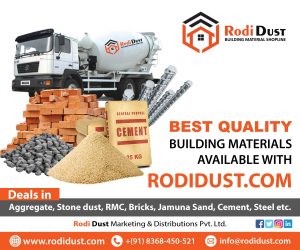 It is true that these materials are available in abundance. However, talking of construction, you need to make sure that the best quality of these materials is being used. Therefore, in order to ensure building supplies of the top-notch quality; it is absolutely important for you to find a reputed supplier.
Finding the Best Material Supplier – Few Tips
As mentioned, the quality of the material which you have depends largely on the material supplier. Therefore, you need to be absolutely sure that you have taken certain aspects into consideration before selecting a supplier.
Here Are Some of Them:
Reputation: Besides, it is also important for you to ensure that one you have selected has been working in this domain for a fair amount of time and is well versed with the working procedure of the construction sector. Choose only those companies that strictly adhere to the building guidelines.
Credentials: It is absolutely essential for you to ensure that you checked for his credentials. If required ask for his list of clients whom he has worked for, and don't hesitate to cross-check them. This would give you a real idea about the quality of his services and the materials he supplies.
Availability: In the construction sector, work virtually continuously 24/7. Therefore, it is very important to make sure that you have arranged for an uninterrupted supply of different types of required materials.
Quality: It goes without saying that the quality of the materials supplied is one of the most important aspects which need to be taken into consideration. Make sure to run a thorough check on the materials supplied by him in order to ensure that the met the required standards. You can put out an all-all for the right materials to be supplied.
Price: The fact that there are so many different options available in the market, makes it very easy for you to get an idea about the existing price in the market. You can always move to a different supplier if you found out that the one you opted for is charging you more than the normal, exceptions if providing you a better quality.
When it comes to building supplies, you cannot afford to take any chances. You must make sure that the materials which are used are of the best quality.