December 26, 2020
Choosing the right READY MIX CONCRETE (RMC) Supplier for your project or new construction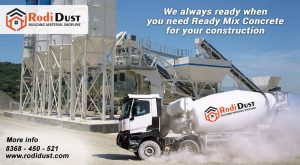 Choosing The Right READY MIX CONCRETE For Your New Construction – Ready-mix concrete is a high-quality concrete manufactured under controlled conditions at a concrete batching plant and then delivered at the construction site. It is manufactured in an RMC plant as per the proportion specifically recommended by the civil contractor or construction contractor. The concrete largely comprises cement (10-12%), water (20-25%) , building materials like stone dust and aggregates (10mm & 20mm)etc. (60-65%) and 10-20% flyash (lowers the hydration temperature of concrete and prolongs the set time).  Ready-mix concrete suppliers are well aware of the correct proportion of cement, water and aggregates that is to be used to prepare the RMC mixture. They ensure that the correct ratio for the composition of RMC is maintained, which in turn reduces wastage of materials.
In India, one of the biggest reasons real estate developers choose RMC over other materials for construction projects is that it significantly reduces the overall budget of the project by cutting down the storage cost (no storage is required) and construction time. This is due to the mechanized operations involved in the manufacturing process. Evidently, ready-mix concrete offers a host of benefits which make it the first choice for contractors irrespective of the kind of construction project they execute. If you are a building contractor/real estate developer who wishes to use RMC for the construction project but are having difficulty in finding the right ready-mix concrete suppliers, here are a few tips that will help you simplify your search:
Check the Proximity
It is important that ready mix concrete is delivered to the construction site immediately. Experts are of the opinion that it must be delivered to the construction site within an hour of being batched. Therefore, whenever you order RMC make sure that you choose a supplier that is located near your construction site. Remember, if you order concrete from a company that is located far away, you not only fail to get a quality product but also end up increasing the delivery charge and the overall project cost.
Credibility Matters (Reliable Source)
It is important to check the credibility of your RMC supplier as it is a vital component of construction. You cannot trust any random company in the market for quality construction material. So, look for an established ready mixed concrete supplier you can rely on. To find a reliable RMC supplier, one of the best ways is to search for it over the internet. It is advised to short-list a couple of good companies and then check for their credentials both online and offline. Also, find out what previous customers have to say before zeroing in on your chosen supplier.
Make Note of the Experience
Experience matters a lot, so don't go after a company that has little or no experience, no matter how lucrative its offer is. Opting services of an inexperienced company can get you in trouble in more than one ways. According to real estate experts, it is advisable to go for a company that has been in the market for at least five to six years. Remember that not every company offers the same level of quality and services. This is where experience scores. Only a reputed company with a credible record can be relied on for quality and service as far as buying ready-mix concrete is concerned.
Accurate concrete mix, timely deliveries and receiving custom-made concrete mixture for unique and special applications is imperative for every construction project. To ensure this, it is important to get in touch with reputed RMC suppliers. The above tips will certainly help you choose the right ready-mix concrete supplier for your project.
Read More:
Top Schools in Sohna
Top Schools in Gurgaon
Schools in Gurgaon
one year mba in india