December 10, 2022
Looking For a Top Interior Designer in Delhi NCR? We Are Here To Assist You
Interior design makes space more influential and amplifies your living by giving it a more aesthetic look. It not only makes your space more attractive but also increases the space by arranging things in an ideal manner.  So, Selecting an ideal interior designer is important as it can change the look of your space, and also having a professional's support can help you in getting the space of your choice within your budget. If you are looking for the Top Interior Designers in Delhi NCR then RodiDust. The best interior designing company in Gurgaon, is here to assist you with world-class interior designing services.
How we work:
Since our commencement, we are only focused on our customer's satisfaction. With years of dedicated work, honesty, and quality services. We have emerged as a top interior design company in Delhi NCR. RodiDust has a team of professional interior designers and skilled workers who possess years of experience and knowledge. RodiDust provides interior designing services with a unique blend of advent grade technology, innovation, and excellence, that reflects in our project's exceptional quality and endurance.  We consider each portion from wall to décor items, family pictures to the colors, floor carpet to the lights everything, and try our best to deliver excellent services to our esteemed clients.
The work environment at RodiDust is truly integrated which helps our team to maintain timely services and quality based on insightful information. Our highly qualified and experienced team work as a channel to deliver the service in time bound manner. We keep our customer's demands and budgets in our mind while working on any project to meet their satisfaction.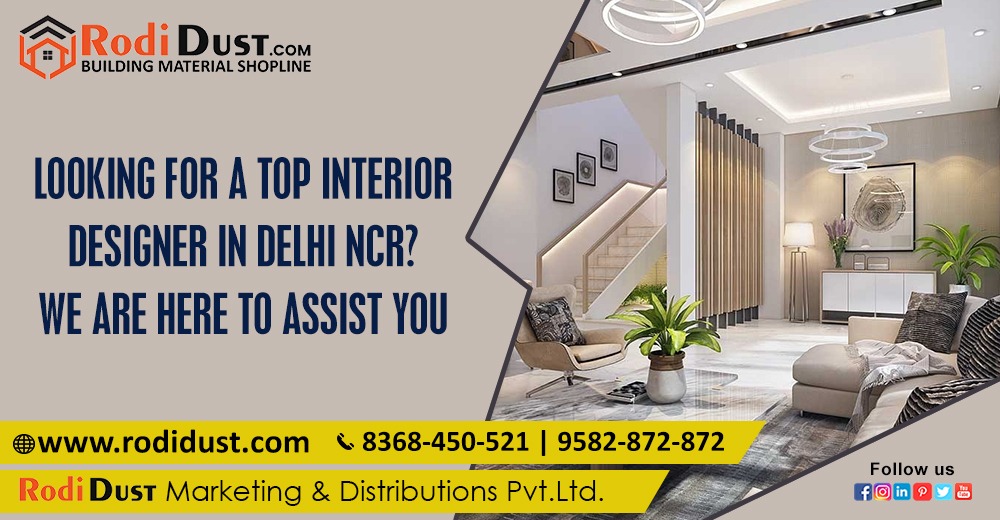 Leading interior designing company in Delhi NCR:-
The professionals of RodiDust create a unique and innovative solution that gives a perfect balance between functionality and aesthetics. We emphasize budget management and methodical arrangement of all activities to make sure a smooth and flourishing completion of the entire interior design project and exceed the customer's expectations.
Being the most prominent construction material provider in Gurgaon. RodiDust has vigorous collaboration with prestigious building material manufacturing companies, and hence, we use top-class materials in interior designing works according to the allowance.
Note: Also Please Like Share, and Comment on a Facebook Page