January 10, 2023
SAIL: India's Expert of TMT Bars
Steel Authority of India Limited
Working as an organization under the government receiving 'Maharatna' status, Steel Authority of India Limited (SAIL) is one of India's largest steel manufacturers catering to the country's every need. From big railway tracks to small cutlery items, Sail TMT Bar has made its presence known to people by fulfilling what its tagline meant "There is a little bit of SAIL in everybody's life". With hard work and also advanced technology, they have been ranked 2nd in India and making their name worldwide by assuring quality with diverse products.
Below is the grade of TMT bar with their prices produced by the SAIL given by the TMT Committee at the Rodi Dust Steel Suppliers in Gurgaon: –
| | |
| --- | --- |
| Grade Of TMT Bars | Prices  (As on 10 jan 2023) |
| SAIL TMT EQR | 12MM-25MM = ₹61300/ +GST |
Features of SAIL TMT Bars: –
Great Strength
Known for being the pillars of the construction industry. SAIL TMT Bars exhibit great strength and also hold onto your building for ages even in those areas which have massive rainfall. The company's pride SAIL TMT EQR works even in earthquake-prone areas.
Fabulous Bendability
Because of their flexible qualities, SAIL TMT Bar can be molded into any wanted structure for your requirement serving you the quality of bendability and this will be fulfilled by the company's SAIL TMT EQR at a reasonable price by the suppliers of Rodi Dust Steel in Gurgaon.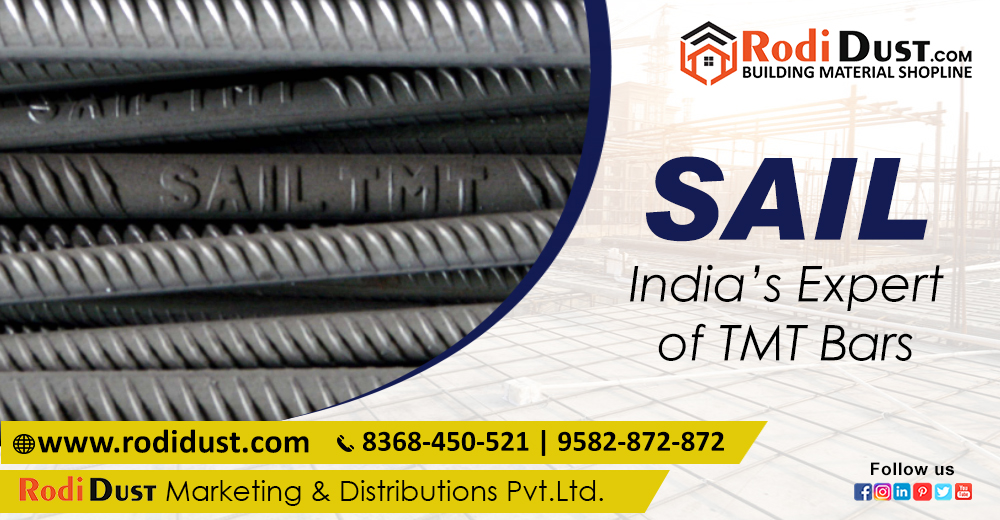 Promising Bonding Properties
Its effective chemical composition between different properties creates strong bonds without comprising the excellent quality of steel bars. SAIL has always assured the quality of Sail TMT Bar which ranked them 2nd in the industry.
Corrosion-resistant
Because of their unique manufacturing process. SAIL TMT HCRs are highly resistant to corrosion and also can stay in contact with water for a longer period of time without getting affected making them customer-preferred TMT bars.
Why Rodi Dust:
We are the suppliers of every building material required in the Delhi NCR region. Serving you with our on-time delivery system. At Rodi Dust, we also make sure that you get the best deals for yourself with reasonable prices and have employed highly certified experts for giving our clients satisfaction. The grade for TMT bars is because customer satisfaction is our main agenda.
Note: Also Please Like Share and Comment on a Facebook Page