June 4, 2022
Cement price today in Gurgaon & Delhi NCR:
After a recent hike in cement prices, the cement bag prices have stagnated in Gurgaon and Delhi NCR. Cement price today for different brands have been recorded as per the table below:
Cement Name                                                                             Cost(PPC)              Cost(OPC)
UltraTech Cement                                                              400                         425
Ambuja Cement                                                              385                         N.A.
Ambuja Plus/Ambuja Kawach                                       415                          440
J. K . Laxmi Cement                                                          365                          390
J. K . Super Cement                                                            370                        395
Lafarge Cement                                                                    375                         400
Bangur Cement                                                                     360                        385
ACC Cement                                                                           380                       N.A.
Shree Cement                                                                        360                        385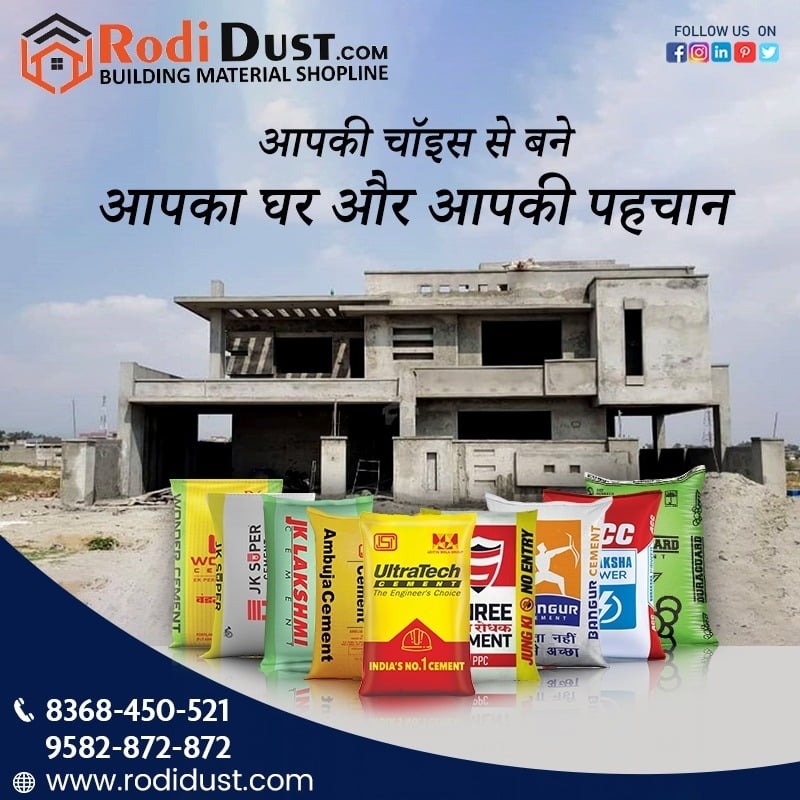 Types of Cements used in construction
Ordinary Portland Cement (OPC)
Firstly, it is hydraulic binding material consisting of 6%-15% of blended materials and appropriate amount of Gypsum. It is used for masonry work, plaster work, pointing work, laying of floor and also roof etc. However, this cement provides compressive strength in initial stages hence resulting in speedy construction. It also offers great resistance to cracking and shrinkage.
Portland Pozzolana Cement (PPC)
It is a sort of blended cement constituting of 65% of cement clinker, 15-30% of pozzolanic  material and 5% of gypsum. It is widely used for marine structures, hydraulic structures, dams, roads, runways, sewers, bridge piers etc. Further, this cement generates low heat of hydration due to which eliminates surface cracks. It offers more durability with low manufacturing cost.
Why Choose Rodi Dust Marketing & Distributions Pvt. Ltd.?
At Rodidust, we ensure the fact that we are providing best material to our customers to make their construction project hassle-free and also profitable. Further, we understand the challenges that come in choosing right building material and our aim is to make sure that for you as a customer, the process should be simple and stress-free.
Along with construction material supplies, we also offer Architecture, Interior designing, Construction and Renovation services. By bringing all these services under one roof, we make construction process efficient for our clients and guarantee high-end quality products.
Most importantly, Rodidust set the seal on by providing unbeatable prices with fast delivery as customers' satisfaction is our top-most goal.
For looking at our company's services and history, please visit About Us page.