August 10, 2022
Which Cement is Best For Home?
Everyone wants their dream edifice to be top-notch so often the question arises that which cement will be the perfect fit for their construction. Nowadays we have a wide variety of cement in the market which makes it difficult for a person to choose which will be best for their project. RodiDust Marketing & Distributions Pvt. Ltd. is one of the most prominent building material suppliers in Delhi NCR. RodiDust has all kinds of different brands and grades of cements. You can get cement from brands like Ultratech, ACC, Bangur, and Ambuja Cement in Gurgaon and Delhi NCR. To make your search easy RodiDust provides you assistance in selecting the material which best suits your purpose.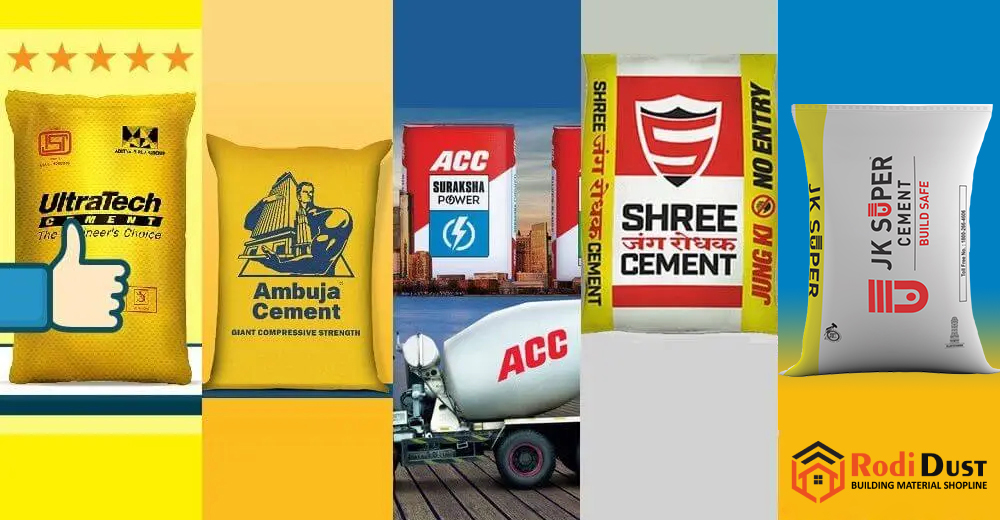 Type of cement
There is various type of cement in the market; these are the most common types of cement.
Ordinary Portland cement
OPC is the most common type of cement used for constructional purposes. Some of the advantages of using OPC are –
It attains strength in less time.
It is available in three grades – Grade 33, Grade 43, and Grade 53.
•Portland Pozzolana Cement(PPC)
PPC has now become the best choice of builders because of its strength
Advantages of PPC
It is cheaper than OPC
It facilitates better workability
Uses of different types of cement
OPC 53 is the best option for RCC work, Road, Bridge, and other structural requirements. Where initial strength is crucial for structure.
PPC on the other hand is suitable for plaster, masonry, tiling, and waterproofing where initial strength is not critical.
RodiDust provides all kinds of cements and you can place your order from the comfort of your home we will make sure that you receive your order at your doorstep within the given time limit.
RodiDust's primary objective is to change how edifice happens in India. We are India's first multifaceted building solution offering the biggest and widest range of building construction materials under one platform. Our dream is to be an element of every dwelling being constructed or renovated; structure lasting associations with our patrons by being a dependable, spirited, and expedient source of all edifice products and services. We are an innovation-driven company that wants to make your edifice project your best experience.
Note: Also Please Like Share and Comment on Facebook Page