August 3, 2022
Cement is one of the most significant building materials that define the stability and robustness of the structure. And now it is used in many construction trade items like plain cement concrete, reinforced cement concrete, mortar, etc. Infrastructure signifies the prosperity and development of the country and hence choosing the best building material is important for its economy. So, it's important to use top-quality cement and building material. And if you are looking for top cement companies in Pune then you should go with RodiDust Marketing & Distributions Pvt. Ltd. It is a prominent Cement supplier in Pune and has great collaboration with the most reputed cement manufacturing companies in India.
What we have for you:-
Customer satisfaction is the core part of our service; hence we work with keeping your needs and demands as our priority.  RodiDust Marketing & Distributions Pvt. Ltd. has the best team of professionals and state-of-the-art technology. Which we are delivering quality and prosperity all over the country. RodiDust comprises the best array of products assuring advanced and excellence for wide-ranging construction as well as for dedicated applications.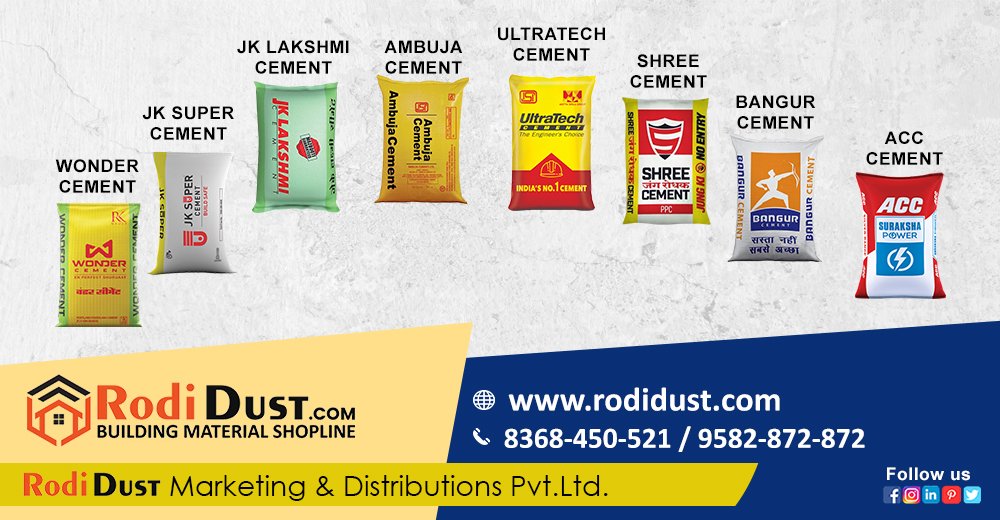 Why go for RodiDust:-
Our Cement range is premeditated to deal with specific problems of customers. With detailed packaging and effortless usage, we have intended to make the construction journey easier. The Cement product range at RodiDust provides one-stop solutions from basic requirements to high grades of construction that contribute to the nation's progress.
Since our inception, we have integrated our commitment to quality services and customer satisfaction into all activities of our value chain. With dedicated work and trustworthy services. We are now leading the Infrastructure market as the best cement supplier in Pune and a reputed construction company in India.
The Last Words:-
The RodiDust Marketing & Distributions Pvt. Ltd. is a hallmark of quality and durability in the Construction Industry. Our only goal is to make the construction process easier for all  Indians across cities. Towns and villages as well as provide enduring structures to the country. Our success over the years can be attributed to our unrelenting focus on customer centricity. Ethical business practices, and sustainable development. Our differentiated offerings are the result of our deep understanding of every residential and commercial builder's needs. This approach has made us the broadly reputed and prominent building material supplier in Pune.
Note: Also Please Like Share and Comment on Facebook Page
About Author
vikash kumar