January 21, 2023
Jindal Panther TMT Bars Supplier in Gurgaon: Strengthening India's Infrastructure
Jindal Steel & Power
From serving Kochi's metro to India's fifth biggest bridge in Assam. Jindal Steel & Power has overcome all obstacles which came their way and became the preferred choice for TMT bars for various projects across India. With their mantra "A legacy of strength. A future of hope." JSPL is a dominant force making its mark and providing such quality with no match to ever find in the industry. Awarded by The Economic Times as Best Brand of 2021. Jindal Steel & Power has launched programs like Garv and Saathiya for the dealers and engineers of the company for mutual growth throughout the journey since 2013. Their manufacturing units are situated in Patratu in Jharkhand, Angul in Orissa, and Raigarh in Chhattisgarh which is well-equipped with modern infrastructure and advanced technology serving to country's needs.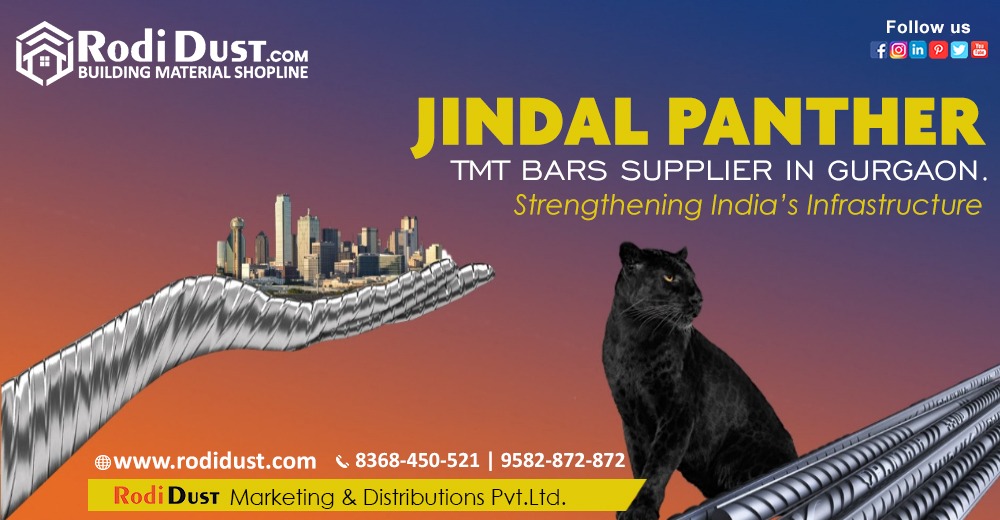 Below are the grades and prices of Jindal Panther TMT Bar given by the TMT team at Rodi Dust as on: –
| | |
| --- | --- |
| Grades | Prices (As on 18th Jan 2023) |
| Fe-550 D | 12mm-25mm – Rs. 67782+GST |
Qualities of Jindal Panther TMT Bar
Excellent Controlled Chemistry
Build from Virgin Iron ore with advanced steel-making and refining processes for controlled chemistry.  Jindal Steel TMT Bars have excellent chemistry for a longer time to come.
Excellent Bendability

Manufactured from iron ore with HYQST technology, Panther TMT bars have low Sulphur and phosphorus content for enhanced strength.
Superior Weldability

A low level of carbon ensures safer and faster welding without preheating for safer joints. The HYQST/QST process delivers consistent tensile strength with higher elongation on every inch.
Superior Mouldability
Panther TMT bars complement in a way that Reinforced Cement Concrete(RCC) structure can be molded into any desired structure providing tensile strength to withstand the hold.
We are the Authorised dealer of Jindal Panther and also provide every building material in the Delhi NCR region for your requirements with an on-time delivery system. At Rodi Dust, our main motto is customer satisfaction and we will do anything to keep that. We have different types of TMT bars available at reasonable prices. For further details, please comment on our blog or call us we will be there at your service.
We also have an online presence at www.rodidust.com to give you a wider knowledge about our products where you can also book any amount of material online for the construction of your entity. We are currently delivering services in Gurgaon and Delhi NCR region with the motive of expanding it in the future.
Note: Also Please Like Share and Comment on a Facebook Page