February 26, 2022
The prices of all cement types varies frequently due to the market conditions and manufacture types. Accordingly, JK Super Cement Price also differs for its various products that are available in the market.
In addition to the already available Portland Pozzolana Cement (PPC) and Ordinary Portland Cement (OPC), JK Super Cement has also introduced another improved cement type – JK Super Strong Weather Shield Cement which provides the customer with a one stop solution for gray cements in any weather condition.
Rodi Dust Marketing & Distributions Pvt. Ltd. is the most trusted channel partner of JK Super Cement in Gurgaon. Therefore, we keep a regular watch on JK Super cement prices and provides best deals to our customers.
CURRENT PRICE OF JK SUPER CEMENT
The current price for JK Super PPC cement in Gurgaon is Rs. 340/- per bag . The  cost for one JK Super OPC Cement bag is Rs.365/-. These prices are effective as on 24.02.2022. For any price/sales related query on JK Super Cements, you can reach us at www.rodidust.com.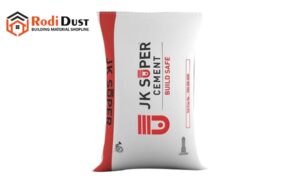 WHY RODI DUST?
Because we assists our customers in choosing the right type of cement based on various parameters like weather conditions, seismic activity etc.
Our customers are also provided with a JK Super Cement civil expert. To ensure that the right proportion of sand, metal and brick is mixed for best results, he also runs field tests for masons.
We are also the prime supplier for JK Super Cement all across Gurgaon and Delhi NCR.
In areas such as Sushant Lok (Phase-I, II, III), DLF (Phase-I, II, III, IV, V) and all HUDA sectors, we are well known and revered.  
OUR VISION
The aim of Rodi Dust Marketing Distributions and Pvt. Ltd. is to be the largest and the most trusted suppliers for the JK Super Cement all across the country with assured and timely delivery of our products to customers.