April 17, 2019
Quantities of materials needed for brickwork, concreting and plastering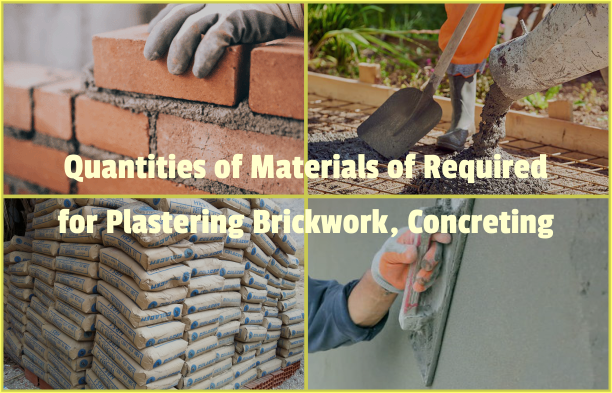 Quantities of materials needed for brickwork : Composition for brickwork, concreting and plastering
Our team consists of experts having huge experience in the fields of construction, construction materials management, supply. With their immense knowledge and experience we have prepared some calculations for brickwork, concreting and plastering. Which are the very basics of any type of construction.
Whether someone is constructing a house, office or any other building type, they would require construction materials for brickwork, concreting & plastering and that is the reason we are here to help users with the construction materials needed.
Quantities of materials needed for brickwork : Composition of different materials of construction in the corresponding contract items of works shall be computed on the basis of the quantities shown below, subject to a variation pf plus/ minus five percent. Wherever the circumstances of work so require, the engineer- in – charge shall be competent to allow (for record reason) for a greater variation.
QUANTITIES OF MATERIALS REQUIRED FOR PLASTERING, BRICKWORK,CONCRETING & OTHER ITEMS (Table )
| | | | |
| --- | --- | --- | --- |
| Sl. No. | Description of items | Unit | Quantities of materials required. |
| 1. | 10 mm cement plaster  (4 : 1) | 100 m² | Sand 1.200 m3 Cement 428.6 kg |
| 2. | 15 mm cement plaster  (4 : 1) | 100 m² | Sand 1.460 m3 Cement 657.1 kg |
| 3. | 20 mm cement plaster  (4 : 1) | 100 m² | Sand 2.170 m3 Cement  778.6 kg |
| 4. | 15 mm cement plaster  (6 : 1) | 100 m² | Sand 1.800 m3 Cement 428.6 kg |
| 5. | 20 mm cement plaster  (6 : 1) | 100 m² | Sand 2.400 m3 Cement 571.4 kg |
| 6. | Ruled pointing | m3 | Sand 0.370 m3 Cement 174.3 kg |
| 7. | Brickwork in cement mortar  (1 : 3) | m3 | Brick 388 nos. Cement 152.9 kg Sand 0.320 m3 |
| 8. | Brickwork in cement mortar  (1 : 4) | m3 | Brick 388 nos. Cement 118.6 kg Sand 0.330 m3 |
| 9. | Brickwork in cement mortar  (1 : 6) | m3 | Brick 388 nos. Cement 78.57 kg Sand 0.330 m3 |
| 10. | Random / Coursed / Rubble masonry in cement mortar in road & jhora works (1 : 4) | m3 | Stone 1.250 m3 Cement 128.6 kg Sand 0.360 m3 |
| 11. | Random / Coursed / Rubble masonry in cement mortar in road & jhora works (1 : 5) | m3 | Stone 1.250 m3 Cement 101.4 kg Sand 0.374 m3 |
| 12. | Random / Coursed / Rubble masonry in cement mortar in road & jhora works (1 : 6) | m3 | Stone 1.250 m3 Cement 92.9 kg Sand 0.385 m3 |
| 13. | Square & coursed Rubble masonry in cement mortar in road & jhora works (1 : 4) | m3 | Stone 1.250 m3 Cement 107.1 kg Sand 0.300 m3 |
| 14. | Square & coursed Rubble masonry in cement mortar in road & jhora works (1 : 5) | m3 | Stone 1.250 m3 Cement 89.1 kg Sand 0.312 m3 |
| 15. | Square & coursed Rubble masonry in cement mortar in road & jhora works (1 : 6) | m3 | Stone 1.250 m3 Cement 76.4 kg Sand 0.321 m3 |
| 16. | Nominal mix cement concrete  (1 : 1 1 / 2  : 3) | m3 | Stone chips (6 to 20 mm) 0.860 m3 Cement 408.6 kg Sand 0.430 m3 |
| 17. | Nominal mix cement concrete  (1 : 2 : 4) | m3 | Stone chips (6 to 20 mm) 0.880 m3 Cement 314.3 kg Sand 0.440 m3 |
| 18. | Nominal mix cement concrete  (1 : 3 : 6) | m3 | Stone chips (6 to 20 mm) 0.940 m3 Cement 222.9 kg Sand 0.470 m3 |
| 19. | Nominal mix cement concrete  (1 : 4 : 8) | m3 | Stone chips (6 to 20 mm) 0.960 m3 Cement 171.4 kg Sand 0.480 m3 |
| 20. | Neat cement punning | 100 m 2 | cement  217.1 kg |
| 21. | Single brick flat soling | 100 m 2 | Brick  3228 nos. |
| 22. | Brick on edge flooring | 100 m 2 | Brick  5380 nos. |
| 23. | 75 mm wide brick on end edging | 100 m 2 | Brick  800 nos. |
| 24. | 75 mm wide brick on edge edging | 100 m 2 | Brick  400 nos. |
| 25. | Boulder for pitching apron & sausage work | m3 | Boulder  0.90 m3 |