July 25, 2022
Stone Dust Supplier in Gurgaon
Stone Dust Supplier is a waste material of stones obtained from crusher plants. It can also be used as a partial substitute for natural river sand in concrete. The use of stone dust in concrete not only enhances the durability of concrete. But furthermore conserves the natural river sand for the coming generation. Stone Dust Supplier is broadly used as a setting bed for any of the several manners of stone pavers. Utilized by homeowners in small construction projects.
It can be smoothed to create a very flat surface and also it is strong. And adequate to bear the weight of stone pavers, which can be relatively noteworthy. And if you are looking for reasonable quality stone dust for your construction project in Gurgaon. Then take the services of Rodi Dust Marketing & Distributions Pvt. Ltd. Rodi Dust is one of the best stone dust suppliers in Gurgaon. We have also a variety of stone dust and other construction material of exceptional quality at a reliable cost.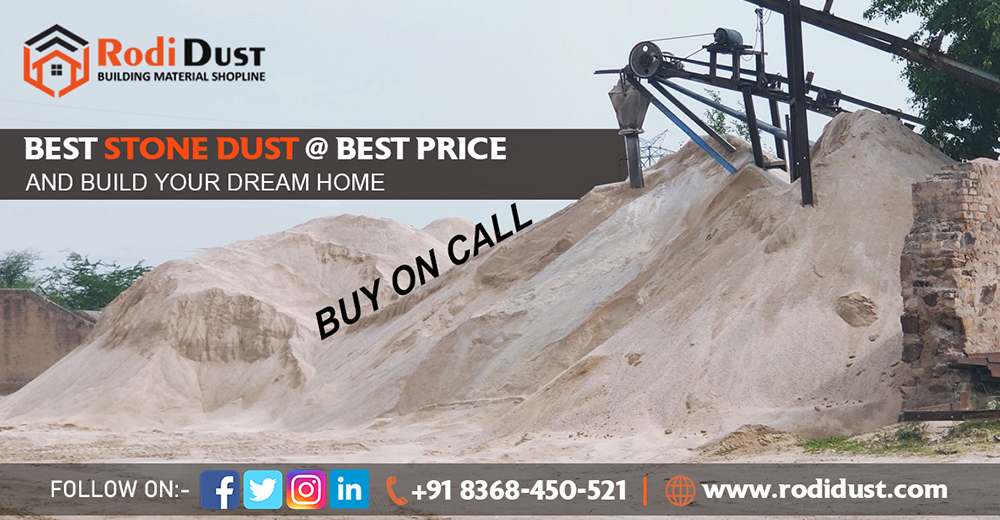 How we work:-
Choosing the appropriate variety of construction materials is the most significant step to ensuring stability and long-term construction result. But it needs proper knowledge to choose the material of adequate quality and quantity. Hence, the professional team of Rodi Dust Marketing & Distributions Pvt. Ltd is here to help you. Our experts will dedicatedly assist you in for opting the best concrete and appropriate stone dust along with all construction materials and other services you need for building your dream project.
Our services include:-
Materials used in structure and building applications have exclusive strengths as well as failing, and there are frequently trade-offs among these individuals. At RodiDust, we cater a wide range of services like:
Building Material supplier
Contractor
Interior designer
Modular kitchen manufacturer
Modular wardrobe manufacturer
Architects
Painter
False ceiling
Why go for Rodi Dust Marketing & Distributions Pvt. Ltd:-
Rodi Dust provides the best construction material and has great collaboration with the best construction material brands. In the same way, we also provide all ranges of stone dust you want for your construction. We not only emphasize the quality of material but are also dedicated to the integrity and standard of service we furnish to our valued customers. The great team and exceptional manner of transport system make us the best building material supplier in Gurgaon and Delhi.
Note: Also Please Like Share and Comment on Facebook Page