December 16, 2022
What are the Types of Cement used in House Construction
As we plan for house construction, a lot of questions strike our mind about the budget, material, and especially the Types of Cement. Since cement is one of the crucial building materials that give stability to the building. Selecting construction materials for residential needs a good experience and any wrong guidance can cost seriously. So, the professionals of Rodi Dust, the best construction material supplier in Gurgaon, are always there to assist you with quality cement and other construction material and the best construction advice.
Being one of the most preferred and prominent cement suppliers in Gurgaon, RODI DUST is committed to exceptional quality and our team has expertise in the field of construction. Hence we ensure to provide our customers with the best quality material and exceptional services following their budget. If talk about cement there are two types of cement used in house construction in India and that are:
Ordinary Portland Cement (OPC)
Portland Pozzolana Cement (PPC)
Ordinary Portland Cement (OPC)
OPC is generally known as grey cement and is widely used cement for the production of mortar, non-specialty grout, concrete, and plaster. It is the best cement for commercial, residential, industrial structures, and high-rise buildings and due to its low compressive strength, it is also used in civil construction where high-grade cement is needed such as highways, bridges, runways, etc.
OPC is suitable for all sorts of RCC structures, concrete blocks, and paver blocks.  OPC is favorable for single-story residential construction and also caters to a variety of needs associated with plaster. For the best brand and excellent quality OPC cement buy from RODI DUST Marketing and Distributions Pvt. Ltd.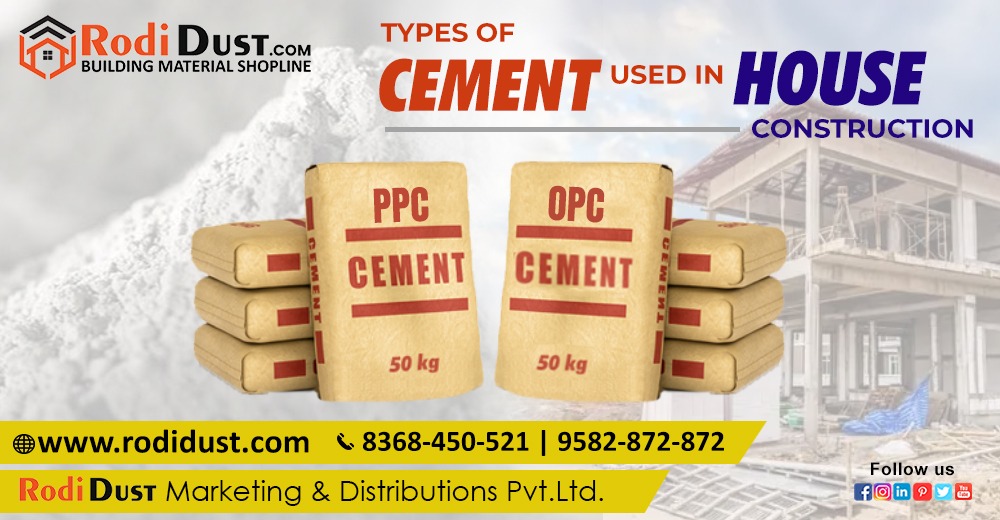 Advantages of Ordinary Portland Cement
Cracking and shrinkage-resistant
Its Initial setting is faster than PPC.
The curing period of OPC is lesser than PPC and the curing charge reduces. Therefore suggested for the areas where curing costs more expensive.
Portland Pozzolana Cement (PPC)
PPC has certainly become a significant option because it is made of Palaeozoic material which gives superior properties to cement. It is highly corrosion-resistant.
Even though its strength is less at the initial setting time but it gains strength over time. To facilitate better performance, PPC uses in all-purpose construction while it is best for plaster, tiling, and brickwork. PPC is not only responsible for enhancing the excellence of the structure but also it saves costs.
Advantages of PPC Cement:
Gains higher strength over time.
extremely resistant to sulfate and chloride attacks.
due to pore refinement, it enhances the density of concrete.
Has low permeability and solidity.
needs a less amount of water.
Higher workability.
superior resilience.
Low heat of hydration.
RODI DUST provides all kinds of construction materials and we deal with the best and most reputed cement brands in the industry. So, to get top-quality cement contact RODI DUST. Our experts not only assist our customers with quality material but also help them choose the best material. So, buy quality cement and other construction material from RODI DUST and enjoy long-term durability and quality.
Note: Also Please Like Share and Comment on a Facebook Page