June 15, 2022
Benefits of AAC blocks
Benefits of AAC Blocks or Aerated Automated Concrete blocks are made up of lightweight cellular concrete which is manufactured by reacting aluminum powder and a proportionate blend of lime, cement, and fly ash or sand. In the construction of buildings, AAC blocks are tremendously advantageous because there are various benefits of AAC blocks.
Manufacturing of AAC blocks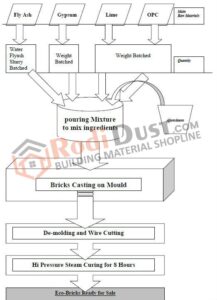 The various benefits of AAC blocks are listed below:
1. Termite-Free
The usage of  inorganic products in the manufacture of AAC blocks prevents termite growth. Hence, it also reduces the cost of pest controls.
2. Eco-Friendly
In the manufacture of these blocks, there is the usage of non-toxic ingredients and recycled industrial waste i.e. fly ash which does not pollute atmosphere. Also, there is lesser energy consumption with no emission of gases which makes these blocks environment-friendly.
3. Light-Weight
While using AAC blocks in construction project, the dead load of building get reduces because these blocks are lighter in weight. It is one of the lucrative feature of these blocks as it not only reduces the dead load but also the construction cost.
4. Faster Construction
The construction time minimizes by 20% by the use of AAC blocks because of their bigger sizes. Not only this, it can be easily handled and cut with ordinary tools which ultimately results in faster construction.
5. Earthquake Resistant
As AAC blocks are light-weight, so the mass of building is less which helps in preventing the effect of earthquake on building. Also, these blocks have higher compressive strength, therefore a building becomes capable of handling earthquakes.
6. Moisture-Proof
While designing a building, moisture protection must be looked upon. These blocks have low water absorption because of presence of macro pores in it. So, building becomes more moisture protected with the use of these light-weight blocks in construction.
7. Cost Effective
All of the above properties, makes these blocks cost-effective. The maintenance cost because of few properties and the labor cost as of bigger size; turns down hence making these blocks more affordable.
Why Rodi Dust Marketing & Distributions Pvt. Ltd. is best option to choose?
Rodidust clearly knows how to fulfill clients' demands. We use our knowledge and expertise to help our clients in the construction journey with driven solutions. For each project, we work with our clients to identify their needs and implement measurement tools to identify the areas of improvement. We consider ourselves a crucial part of each client's construction process. Our success hinges on our clients' profitable journey of construction with top-notch quality materials.