January 15, 2022
Frequently asked questions about CEMENT
1. Which Cement
 is better 43 Grade or 53 Grade ?
The compressive strength for OPC 43 grade cement is 43 Mpa and that for OPC 53 grade cement is 53 MPa. The unit MPa(Megapascal) is the unit for compressive strength.
2. How can you check the quality of cement ?
You can determine the quality of cement on the basis of these tests:
a. Float test
b. Smoothness test
c. Smell test
d. Color test
e. Manufacturing test
f. Temperature test
g. Setting test
3. How do you store cement at site/construction workplace ?
Store the cement in a dry place. Use the cement bag that hasn't been used since a long time to avoid it from becoming solid.
4. What is the lifespan of cement ?
The lifespan of cement depends on the way it's stored. If the cement is stored properly satisfying the expected conditions, it can stay fresh longer for years. However, no matter how perfectly you store, the compressive strength of cement reduces over time. If cement unused for more than 2 years, it could see a decrease in its compressive strength more than double of its original compressive strength after manufacturing.
5. What are 5 types of cement ?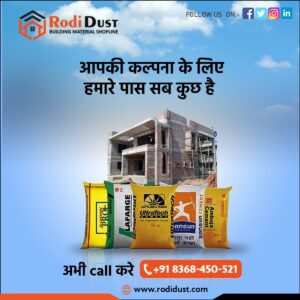 Cement comes in more than 5 types.
Ordinary Portland Cement(OPC) and Portland Pozzolana Cement(PPC) are the popular types.
The other cement types are — Rapid Hardening Cement, Low Heat Cement, Sulphate Resisting Cement, Quick Setting Cement, Blast Furnace Slag Cement, High Alumina Cement and White Cement.
6. How long does cement takes to dry ?
The hardening of the cement on the concrete takes about 28 days. However, it takes 24 to 48 hours to make it dry enough that one can walk on.
At www.rodidust.com , we offer a broad range of Products and Services like Cement, Steel/TMT Bars, Aggregate, Stone Dust, Bricks, AAC Blocks, House Renovation Facility, Painting Services, Interior Designing, Modular Kitchen n Wardrobe, etc.