July 29, 2022
Why is Flexibility one of the Most Important Factors Of TMT Steel Bars?
When it comes to the construction industry, no material can replace TMT bars in terms of strength, and stability. One should often choose the highest quality TMT bars for residential or commercial construction. TMT bar provides durability to the building by holding the concrete together and forming a stable and robust structure for your building. And there are several aspects to consider when it comes to the quality of a TMT bar.
This includes properties such as elongation, corrosion resistance, perfect edges, and diameter that are part of a best-quality TMT bar. But flexibility is considered to be one of the most significant factors. And if you are looking for a suitable and best quality TMT bar for construction then RodiDust Marketing & Distributions Pvt. Ltd is the best option to go with.  RodiDust is one of the best TMT bar suppliers in Gurgaon and deals with the most established brands in the market. That also ensures the best quality and reasonability of the material.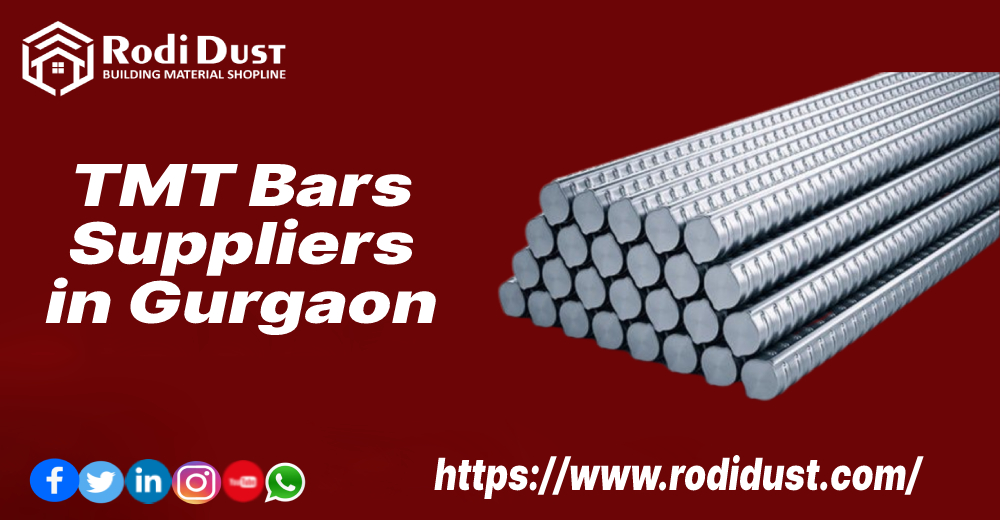 HOW DO TMT BARS GET THEIR FLEXIBILITY?
Every high-grade TMT bar is manufactured by using thermal processing that involves compression. And rolling, and this is done through water quenching and heat treatment. The heating and cooling process is a continuous procedure that occurs at several temperatures.
The quenching treatment is passed out through a range of procedures. For manufacturing high-grade TMT bars a computerized quenching process is used. And when a TMT bar comes into comes in contact with the cold water at some stage in the quenching process. The outer surface of the TMT bar becomes harder and the inner core becomes soft. This technique gives a TMT bar its signature flexibility. This procedure enables a TMT bar to achieve high tensile strength. And makes it moldable and weldable according to the construction needs.
HOW DOES FLEXIBILITY IN A TMT BAR HELP IN THE CONSTRUCTION OF BUILDINGS?
TMT bars have to be often resized, molded and bent according to the ordinances. It is furthermore one of the hardest processes that take place during construction and this is where flexibility comes into play. The high-grade TMT bars are flexible and it makes them prepared to use for any sort of construction purpose, this eventually cuts down the unnecessary workforce. The contemporary construction compels various bending methods and every TMT bar has been formulated to bear numerous painstaking techniques. With the property of flexibility in TMT bars, the cost effect to finalize a project receive curtailed immediately and it moreover takes limited time to complete a project.
SO WHAT MAKES FLEXIBILITY STAND APART FROM OTHER QUALITIES?
The conception of flexibility in a TMT bar not just acts as an objective during the construction. But this marked quality enables the building to take the excess load. And absorb extreme force successfully during natural calamities. With flexibility, the TMT bars further attain an extra elongation property. Fe-500 grade TMT Bars have continued to be one of the greatest preferred options. Among builders and architects, because of their flexibility and elongation properties. As per the Indian standards, the Fe-500 grade TMT bars have absolute flexibility and it is moreover of excellent. TMT bars were utilized for the construction.
So whenever you choose a TMT bar for your construction, make sure you choose RodiDust for the best quality TMT steel bar at extensively reasonable prices. Every TMT bar that comes out from the RodiDust goes through strict quality control, and it is approved under the International quality standards.
Note: Also Please Like Share and Comment on Facebook Page