June 6, 2022
What are AAC Blocks?
Autoclaved Aerated Concrete(AAC) Block is precast foam concrete building material used for both interior and exterior construction. It is made up of quartz sand,  calcined lime, gypsum, lime, cement, water, and aluminum powder by autoclaving it under heat and pressure. To guard against the elements, the coating of stucco/plaster or covering with siding materials such as veneer brick or vinyl sliding is done. The price of AAC blocks starts from Rs.3,250 per cubic meter.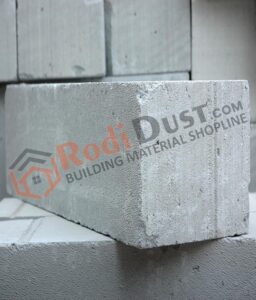 Advantages of AAC blocks
Lightweight: In the manufacture of AAC blocks, several chemical reactions take place that gives it lightweight. Hence, it becomes easy to handle. Being lightweight, it saves transportation and labor expense.
Quick and Easy Installation: These lightweight blocks can be routed, sanded, or cut to size on-site using standard power tools like carbon steel cutters. Hence, it is an easy and quick process to install them.
Fire Resistant: These blocks have porous structure as a result of that it becomes fire resistant. Depending upon its thickness, it can provide fire resistance of approximately six hours.
Thermal Efficiency: Due to its improved thermal efficiency, AAC blocks are suitable in areas with extreme temperatures. It reduces the heating and cooling load in buildings.
Eco-friendly: As compare to traditional concrete AAC blocks are more environment friendly as it produces at least 30% less solid waste. Also, it is non-toxic product which eventually is not harmful for atmosphere.
Fast and Long Lasting Construction: These blocks leads to fast construction because of its large size. Also, it can handle harsh climates, so the life of these blocks is long-lasting.
Sizes of AAC blocks
| | | | |
| --- | --- | --- | --- |
| S. No. | Length X Height X Thickness | Pcs/m3 | Wall Area /m3 |
| 1. | 625X 250 X 100 | 64.00 pcs | 10.00 sq.mt. |
| 2. | 625X 250 X 125 | 51.20 pcs | 8.00 sq.mt. |
| 3. | 625X 250 X 150 | 42.26 pcs | 6.66 sq.mt. |
| 4. | 625X 250 X 200 | 32.00 pcs | 5.00 sq.mt. |
| 5. | 625X 250 X 225 | 28.44 pcs | 4.44 sq.mt. |
| 6. | 625X 250 X 250 | 25.60 pcs | 4.00 sq.mt. |
| 7. | 625X 250 X 300 | 21.33 pcs | 3.33 sq.mt. |
All types of AAC Blocks are available @www.rodidust.com
Why Rodi Dust Marketing & Distributions Pvt. Ltd.
Our mission is to develop relationships with our clients by providing them best quality products at right price.
We are disciplined in delivering the products on time.
We work on 'No hidden' policy. There are no unexpected bills. Any additional expense must be pre-approved by our clients.
We focus on results. For us its all about, what adds value to our clients' satisfaction.