September 8, 2022
Beautify your Home with Fly Ash Bricks
The foundation should be strong but the strong appearance matters equally. But what if you get strength and stylish appearance in the same material; the fly ash bricks are always conventional in terms of durability, cost, and strength. So, building walls with flyash bricks will ensure durability and give a lavish appearance.  Choosing better quality fly ash bricks is important. For this, you need the experts like Rodi Dust, the top Fly ash Bricks Supplier in Delhi for the right advice and quality material.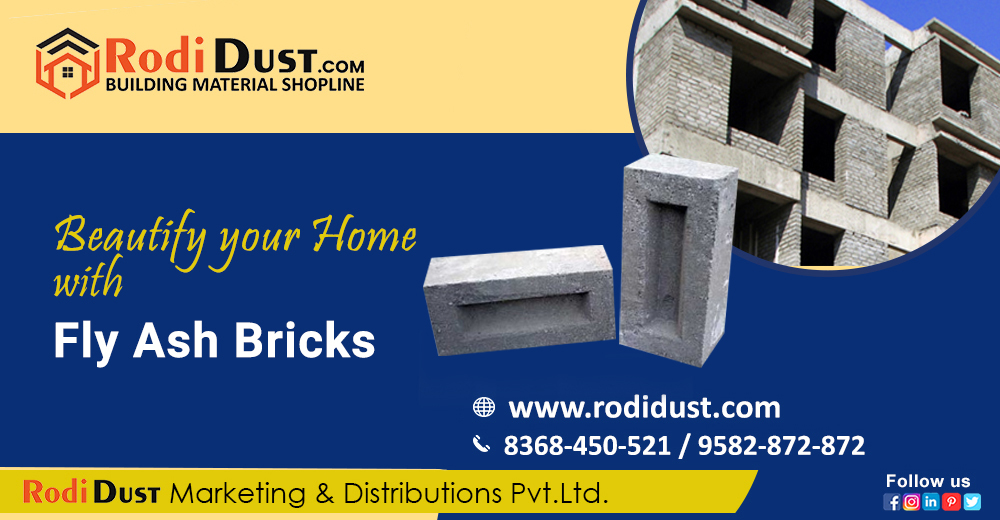 Beautification of home with  fly ash bricks
Flyash bricks can be used to give a lavish look to the house. Due to uniformity the bricks look attractive and fit together like a puzzle. There is no need to plaster and paint the fly ash brick walls. The walls appear more striking and stylish with their unique red color.
Why fly ash bricks are better
The bricks are very suitable for multi-floored buildings due to their lightweight. This is because, with an increase of floors, stress and tension on the base and structure also accumulate. With light bricks, this stress and pressure are lessened multifarious.
Fly ash bricks absorb less heat and are considered as best for all temperatures, it makes them better than clay bricks.
From the expense semblance, it needs less mortar during a construction project. Also, the machine provided by RodiDust requires less labor too. Our machines are designed to support expenses associated with the wastage of material.
The compressive resilience is very high and they are light absorbent. Red flyash Bricks absorb less water and save costs there, too.
It is environmentally friendly and hence allows your business to take a step towards endurable growth. The bricks are made with waste material that stimulates environmental security and protection. Production of flyash bricks needs no fossil fuel and hence does not lead to the emission of greenhouse gases.
There is no pollution or environmental deterioration, unlike the manufacturing of red clay bricks.
There is no need to plaster or paint the wall after using fly ash bricks.
Why go for Rodi Dust Marketing & Distributions Pvt. Ltd.:-
Being a leading Building Material Supplier in Delhi and Gurgaon, Rodi Dust works on quality standards and with a highly professional team. Our core focus is only on our customer's satisfaction. Along with the best red brick supplier in Gurgaon, you can also get a chance to deal with the most trustworthy and prominent flyash brick dealers in Gurgaon.
Note: Also Please Like Share and Comment on Facebook Page