October 18, 2022
Buy Kamdhenu Steel at the Best Price in Ghaziabad
Structural steel has a very vital role in the building industry. Structural steel is the crucial & most preferred material for building construction by architects, engineers, designers, and contractors. It offers numerous benefits in any kind of construction project, be it residential or commercial edifice. TMT steel bars must be corrosion-resistant to ensure the well-being of your project and to extend the life of your TMT bar's resulting degrees of torsion and coating within the microstructure. Kamdhenu Steel bars is also one of the leading steel brands in India widely used in residential and commercial edifices. Its features like high ductility and earthquake impact resistance make it very useful and compatible with edifice projects.
When you start searching for Kamdhenu Steel suppliers in Ghaziabad you might stumble across various options but it is important to select a platform that is promising and provides genuine material such as RodiDust, a building material supplier in Delhi NCR and Ghaziabad is a leading name in the industry of construction material suppliers.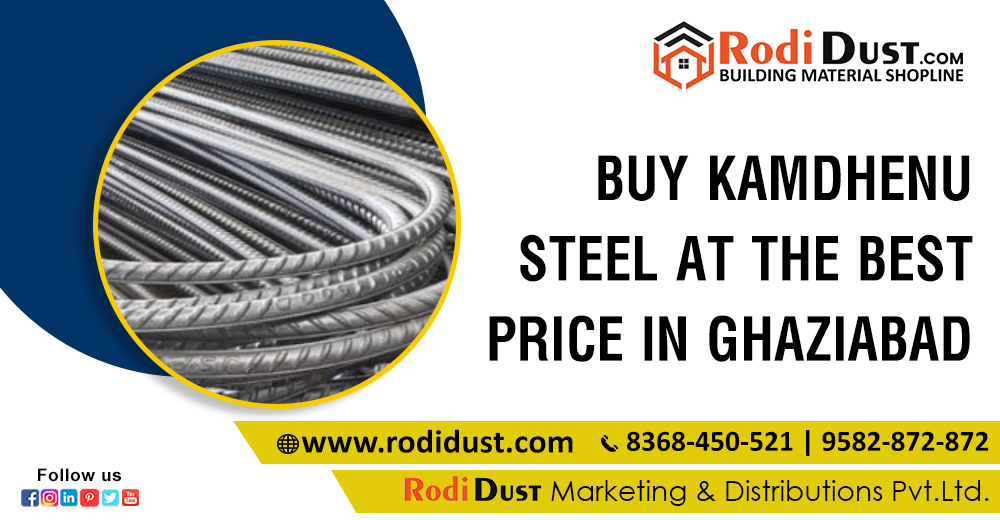 Features that make Kamdhenu a perfect choice:

Earthquake resistant
High thermal resistance
High tensile strength
enhanced ductility and malleability
considerable savings in the price of steel
superior strength combined with elevated ductility
Superb weldability without loss of strength at welded joints
How can RodiDust be your best steel partner

In today's world of fast pace development, we can see development everywhere buildings are occupying lands amplifying human needs. Construction today does not only require fancy structures but also a strong foundation so that it can last long. Material selection plays a key role in the making of a sturdy edifice. Rodi Dust Kamdhenu steel supplier in Ghaziabad provides a one-stop solution for all your construction needs. Rodi Dust has construction materials from all different which makes it the perfect marketplace for all your building requirements. Whether Cement or structural steel we have it all, that is what makes us the foremost building material wholesalers in Gurgaon and Ghaziabad. Our team of professionals delicately delivers material of excellent quality while sticking to the schedule. We move forward continuously with the zeal of becoming the best. Come be a part of the Rodi Dust family and experience superlative construction.
Note: Also Please Like Share and comment on Facebook Page