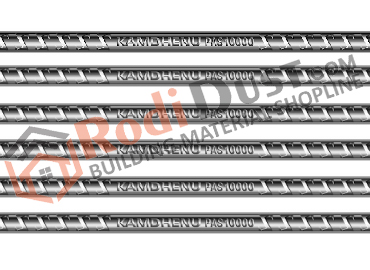 Kamdhenu Limited is a deep-rooted flagship company operating in the business of steel manufacturing since 1995. The company has its centralized marketing office at Gurgaon backed with a pledged chain of over 7500 dealers and distributors spread across the entire country for the steel business. The company has been consistently establishing brand awareness of its products, which now enjoys a thoroughgoing extent over the country. Rodi Dust marketing team creates awareness with a brief of distinct steel brands of the Kamdhenu Group highlighted as under :
KAMDHENU PAS 10000
Kamdhenu, one of the greatest TMT steel manufacturers across the country, and also Kamdhenu group is the first company in India to introduce PAS 10000, a cutting-edged strong blended alloy steel product, to give a new definition to the construction scenario in the country. PAS 10000 is BIS and international quality standard obedient and is suitable for making highly durable PAS 10000 PSI concrete. The alloy in it grants it superior anti-rust, corrosion resistance and anti-degradation properties. Moreover, it is blended steel with alloy and should not compare with ordinary steel TMT bar, as the eccentric properties of PAS 10000 are accomplished by blending it with alloying elements in an explicit ratio. Further, the 360-degree locking technology provides it prime stability, endurance and is most effective for earthquake-prone areas it also comes with innovative ribs for puissant grip with concrete. Each lot is tested through a meticulous procedure to ensure the building structure get definite stability and durability in varied geographical conditions.
Procedure :
Alloy Steel is manufactured by blending alloying elements into the steel at a certain composition to improve its mechanical properties. These alloying elements are added to produce definite properties that are unexposed in ordinary Carbon Steel. Kamdhenu Power Alloy Steel is high-grade steel that is alloyed with defined value alloying elements such as Nickel, tungsten, chromium, Molybdenum, Nickel, cobalt, Vanadium, magnesium etc. These elements are mixed in assorted proportions and combinations to optimally increase perfect and desirable properties in TMT reinforcement bars such as toughness, corrosion resistance, durability and ductility. When an alloying element is mixed, it is combined with carbon and it produces a secondary precipitate, i.e. Alloy Carbide. Whenever there is a load on building structure steel is subject to far away proof-stress then the Iron Carbide atoms get disarranged and the unoccupied space is occupied by Alloy Carbide which is extremely hard in nature. This expands the plastic region of steel, i.e. increases the tensile strength and flexibility of the steel, reduces the earlier fracture of steel in a building and increases the protection features of the structure. The load-bearing capacity of PAS 10000 is 28% is excessive than ordinary carbon added steel. The addition of the micro-alloying elements makes the structure stable, stronger and safer in the earthquake-prone belts.
Features :
Kamdhenu PAS 10000 has a remarkable innovative rib contour for ultra-strong grip with concrete in a stint of greater rib depth/height and closer rib spacing at several angles
The CNC point cutting ensures an identical rib pattern which allows uniform adhesion with concrete in the inclusive structure.
Kamdhenu PAS 10000 is exceptional to conventional rebars due to its uniformity, critically organized ribs, deplete endurance & ductility. Further, comprehensive testing throughout the steel making & rolling technique is administered to guarantee that excellence criteria are maintained.
Experts Support – For your nicety in the nomination of the privileged staff, Rodi Dust Marketing & Distributions Pvt. Ltd. has chartered highly recommended authorized experts who support you in selecting the best TMT bars according to your requirement.
Exceptional Quality - We as Rodidust Steel TMT Suppliers in Gurgaon never jeopardize the excellence of our supplies. The TMT bars are provided in their primary state in a time-bound manner without any sort of substitutions in the quality of steel bars.
On-Time Delivery - With the assistance of well-trained staff members, Rodidust Steel and Cement Supplier assure on-time delivery of the material without any holdup.