August 23, 2022
Process Involved in Making Quality TMT Bars
TMT or Thermo Mechanically Treated bars are high-strength support bars having a toughened external core and a malleable internal core. They are manufactured under a procedure called Thermo Mechanical Treatment, after which they have been named. TMT bar have become an important part of construction whether commercial or residential, apart from house construction they are also used for various other purposes. RodiDust Marketing & Distributions Pvt. Ltd. is a building material supplier in Delhi NCR, which have years of experience in the construction industry. Here are the steps in making superior quality TMT bars as explained by experts at RodiDust.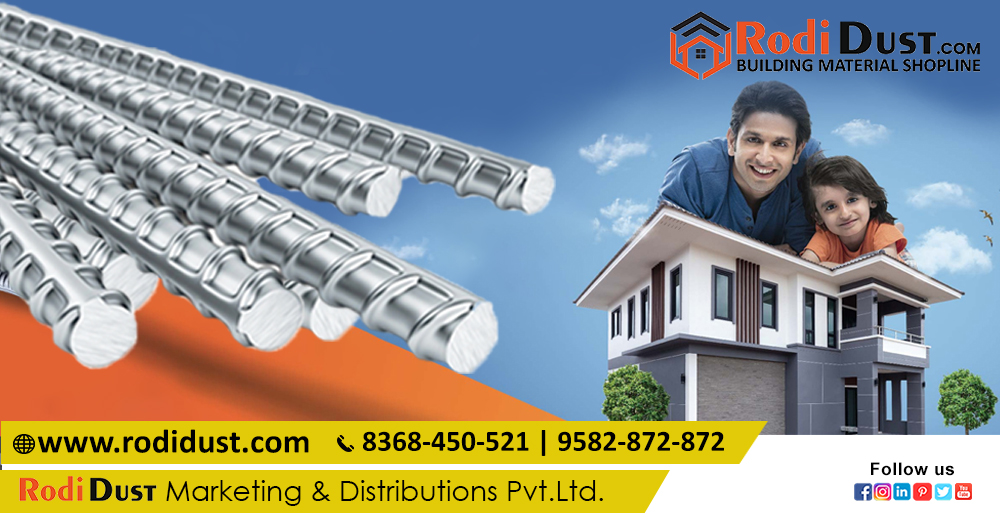 Extraction of iron from ore and its conversion to steel
Raw Materials such as coke, Iron ore, and fluxes are used to extract iron kept in the molten state. It is then subjected to pre-treatment, conversion, and refining. Molten steel is then poured into the casting machine.
Heating, undulating, and creation of toughened bars
Steel billets are heated to a temperature of 1200 °C to 1250 °C and then they are reshaped by rolling gradually forming steel bars.
Quenching can be simply understood as sudden heating and cooling of steel reinforced bars. Quenching prevents the occurrence of undesired processes. Upon this process of quickly heating and cooling outer surface of the bar is converted into Martensite, a hard form of steel. While the outer surface is cooled but the core remains hot
Upon the completion of quenching wholly a temperature gradient is formed through the cross-section of the Quenched bar. The heat from the core naturally flows outside where the temperature is relatively lower. As a result, a pattern of correct tampering of an outer layer and the configuration of a middle ring of Martensite and Bainite (a plate-like microstructure) is formed.
Bars are then subjected to atmospheric cooling to equalize the temperature. Once the bars are entirely cooled down, the austenitic core gets changed into a ductile ferrite-pearlite arrangement.
Cross-section of the concluding product exhibits a distinction in its crystal microstructure having a hard, burly, tempered martensite in its outmost layer, a transitional layer of Martensite and Bainite, and a polished, rough, and ductile ferrite and pearlite core.
RodiDust Building Material Suppliers in Gurgaon and Delhi NCR provide steel TMT bar from all various brands and different grades making it one of the most reliable marketplaces for online building materials in Delhi.
How RodiDust Marketing & Distributions Pvt. Ltd. can be your best construction partner:
RodiDust has always been committed to customer service and satisfaction. We are dedicated to providing the best quality material, services, and assistance. Through years of hard work and dedication, we have emerged as one of the most reliable construction material suppliers in Gurgaon. You can reach us out through our website or contact number.
Note: Also Please Like Share and Comment on Facebook Page