August 18, 2022
How Do TMT Bars Safeguard Constructions against Natural Disaster
TMT Bars are manufactured using various advanced technology. Also, variants of distinct grades for all-purpose construction uses. And with all the detailed processes it becomes of superior quality. We provide Steel Bars with a harder outer surface and high durability and a soft inner core that gives it high tensile strength. Our with all these processes it becomes durable, flexible, and robust. Steel bars are the basic construction material that plays a vital role in the best construction results. So, if you are planning to start any sort of construction project in Gurgaon or Delhi,  RodiDust Marketing & Distributions Pvt. Ltd. is here to help you with the best quality TMT bars and other building materials. RodiDust is a prominent structural Steel Supplier in Gurgaon and Delhi and has a robust relationship with the most reputed and trusted steel manufacturing companies in India.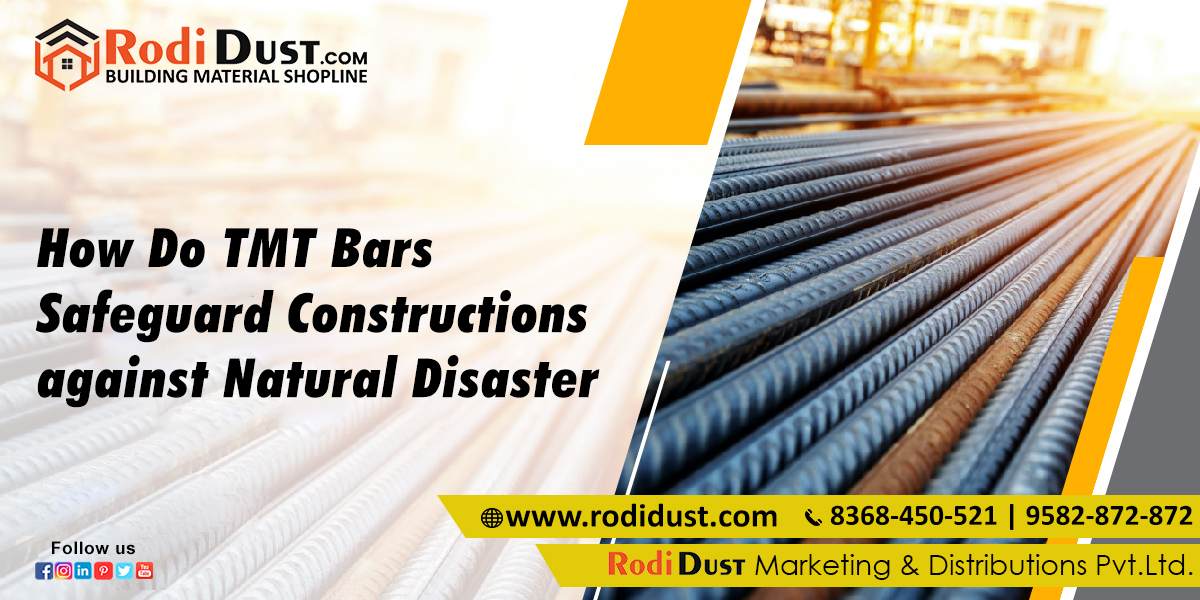 How TMT bars protect building against

 

natural disasters

:-

Some of the dangerous and huge Natural disasters such as fire, earthquake, storms, and high amounts of rain can severely harm the structure, here the construction material especially TMT bars plays an important role to safeguard the structure and lives.
PROTECTION AGAINST

 

FIRE:-

Steel Bars are made with various advanced methods and processed through different techniques considering all aspects. So, TMT bars have high-temperature resistance and this property of TMT bars protects the building against fire and also gives the building long-term durability.
EARTHQUAKE:-

Earthquakes are the most dangerous and leave the greatest harm, especially to buildings and other structures. TMT bars can absorb the vibrations produced by the earthquake and minimize the destruction and protects against Earthquake. So, Steel bars are widely used in Earthquake prone areas.
RAIN:-

Floods caused by high rainfall can cause great damage to the building due to shear, wear and tear and also it causes corrosion which highly impacts on robustness and stability of the construction. And TMT bars also are highly corrosion resistant, so they can protect the building against rain and flood. And because of this TMT bars are a highly preferred material in Humid and coastal areas. 
STORM:-

Wind storms are also the reason for the building damage and they cause imminent threats to the stability of building in all phases. And it becomes more severe when the structure is made with ordinary material and cannot withstand the disaster.  TMT bars have great durability and high tensile strength that ensures the stability of structure against severe storms for a long.
Why go for

 

Rodi Dust Marketing & Distributions Pvt.Ltd.

:-

RodiDust is the Top TMT Bar Supplier in Gurgaon and Delhi.  We only deal with the best and most reputed construction material manufacturing companies in India. With the best material and other construction solutions, RodiDust has become the topmost and most preferred construction company and building material supplier in Delhi. we only emphasize our quality services in time bound manner and our client's satisfaction. With detailed and integrated service quality and trustworthiness, RodiDust has got a reputed place in Construction Industry. So, if you want the best quality Steel bars and other construction material contact us or visit our website and place your order online at the most reasonable cost. Our team of professionals will always cater to you with the most excellent products and assistance.
Note: Also Please Like Share and Comment on Facebook Page