July 27, 2022
What you need to know before Buying PPC Cement
When it comes to the final decision to buy cement for your project, you have numerous options available in the market. And here choosing the right one becomes a more involving and hectic task. So, before buying PPC cement you need to review it. It's Brand, price, cement type, availability, packaging, and so on. For making the best decision here you should go with the experts. Rodi Dust is one of the prestigious and prominent Cement Suppliers in Ambala. And we furnish only the best quality PPC cement from the most prestigious brand in the infrastructure market. But it's important to consider all aspects. So, we also provide you with the assistance of our experts for the selection of the best material.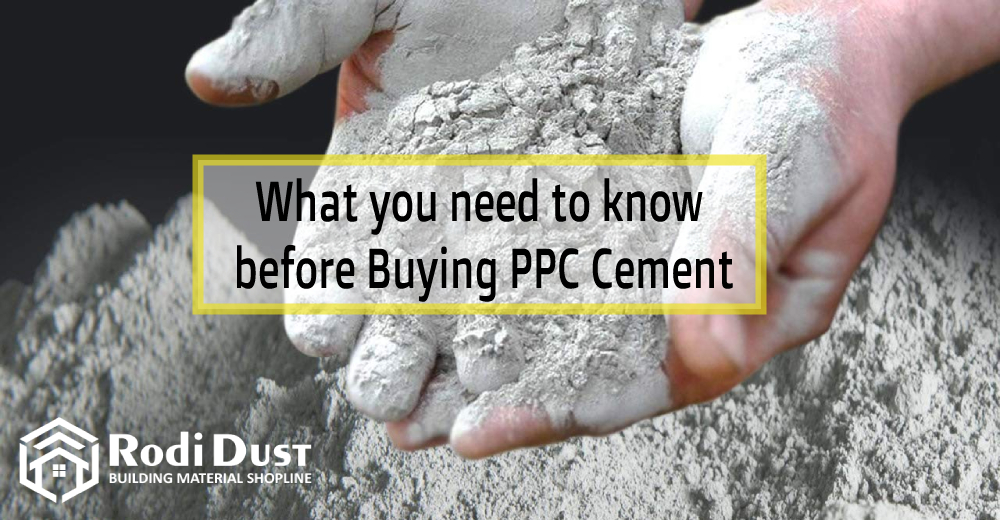 Advantages of PPC Cement
PPC has a lower water-to-cement ratio but it takes a little longer to settle properly.
PPC exceptionally stands against natural calamities and bad weather conditions and it also has great resistance to sulfate attacks. Which ensures the long-term stability and robustness of the structure.
PPC is also a cost-effective material.
It is used in several types of construction projects, including residential buildings and big projects such as bridges, highways, and dams.
After setting, PPC produces an excellent and smooth surface, resulting in enhanced corrosion resistance.
Things to consider before buying PPC cement:-
Here are a few tips from the experts of RodiDust Marketing & Distributions Pvt. Ltd. that you need to consider before buying PPC cement and ways to store it safely:-
Buy only the limited amount of  PPC required for the week or fortnight.
make sure that the cement bag isn't tattered.
Guide workers to carry the bags without using hooks or pointed equipment.
The cement should be kept in a warehouse with a least platform height of 300mm.
The shed's top should be continuously checked and if leaking is found, the same should be repaired.
Storage of cement should be away from the walls at all times.
And also it should not be stored directly on the floor to avoid moisture. Polythene sheets or wooden planks can be utilized to keep it.
PPC is the solution to all issues generally encountered. During the construction process in India, its advantage outweighs OPC. PPC is also the prospect of construction because it is a greener alternative. Various cement brands in India generate substantial amounts of PPC to meet a broad assortment. Construction demands to hold the diverse climatic conditions across the country.
Why choose only RodiDust Marketing & Distributions Pvt.Ltd.:-
RodiDust is one of the prominent construction material suppliers in Delhi.  And the team is highly proficient to handle massive projects. And also in assisting our valuable customers with best and suitable material and services.
We have collaborated with some of the most prestigious cement brands. Such as ACC, Ultra tech, Ambuja Cement, Birla, and many more at all ranges.  And our excellent service and quality material have made us one of the best cement suppliers in Gurgaon and Delhi in just a few years.
Note: Please Like Share and Comment on Facebook Page